CMD Explorer and CMD Mini Explorer Ground Conductivity Meter (GCM)
Trade name
CMD Explorer and CMD Mini Explorer
Technical description
CMD Explorer and CMD Mini Explorer apparatus are modern measurement systems characterized by high resolution, both vertical and horizontal, for well-conducting media. The apparatus complement each other in terms of depth ranges, and the measurement takes place at a total of six depth levels for each of the two configurations of the measuring systems, i.e. HD and VD. This allows for geophysical interpretation and obtaining a depth range from approx. 0.25 to 7 m. The method enables good recognition of shallow, well-conducting geological layers. It allows imaging of the geological medium, i.e. determination of the conductivity distribution resulting from geophysical interpretation. In this method there is no grounding problem because the field is excited inductively and not galvanically. Measurement in the conductivity method can be performed quickly over a large area and can be performed by one person.
Conditions for providing infrastructure
Sharing of equipment requires prior approval of the Head of the Department. Sharing takes place on a collaborative basis or for a fee, under commercial orders.
Type of accreditation / certificate:
Not applicable
Access type
External
Research capabilities
engineering survey, road and railway building
localization of watered zones and landslides, zone of water leak
monitoring of waste water leakage
geological mapping
agriculture, soil quality monitoring
archaeology
environmental mapping of pollution plumes
Last update date
May 24, 2023, 1:51 p.m.
Year of commissioning
2015
Measurement capabilities
The apparatus allows the measurement of apparent conductivity for six depth level for two HD and VD configurations differing in resolution and depth range. CMD Explorer and CMD Mini Explorer are complementary in depth (three levels each for two configurations). The length of the profile is arbitrary and the measurement step is 1 m as standard, which ensures good resolution in the horizontal direction.
Photos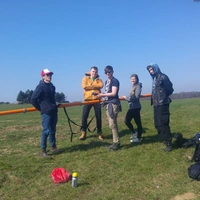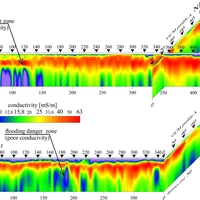 3D diagram of the GCM depth sections (levee zone near Krakow)