Trade name
SuperSting™ Wi-Fi
Technical description
SuperSting R8 is a modern measurement system applied to image the geological medium using the following geoelectrical methods: DC-resistivity, self-potential (SP), and induced polarization (IP). As part of DC-resistivity methods, measurements can be made using the following methods: vertical electrical sounding (VES), resistivity profiling, and electrical resistivity tomography (ERT). The measurement system allows the use of a number of standard arrays (e.g., Wenner, Schlumberger, Dipole-dipole, Pole-dipole, Gradient) and non-standard arrays, that is, freely programmable by the user. The system allows to perform measurements in the 8-channel mode. It means that it is possible to simultaneously measure the potential differences for eight separate pairs of electrodes by passing an electric current through the surveyed medium.
Conditions for providing infrastructure
Sharing of equipment requires prior approval of the Head of the Department. Sharing takes place on a collaborative basis or for a fee, under commercial orders.
Type of accreditation / certificate:
Not applicable
Access type
External
Research capabilities
Supporting research in the field of engineering geology and geotechnics.
Studies of the near-surface zone for the purposes of protection of groundwater environment and for archaeology.
Studies for raw material deposit identification
Measurements on dams, embankments, and other engineering structures.
Measurements with the use of specialized underwater cables.
Land deformation studies in mining areas.
Last update date
May 27, 2023, 3:17 p.m.
Year of commissioning
2014
Measurement capabilities
The SuperSting R8 system allows measurements to be performed in the 1D, 2D, and 3D techniques, as well as in the geoelectrical monitoring (4D) variant. The hardware setup owned by AGH allows for the simultaneous connection of a set of 112 electrodes and a maximum spacing (distance between adjacent electrodes) of 5 m. The length of a single survey line is not limited to only the set of electrodes. Applying the roll-along technique, it can be extended accordingly.
Photos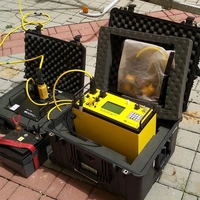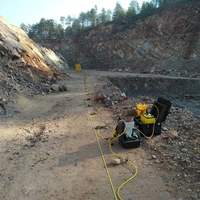 Electrical resistivity tomography in a limestone quarry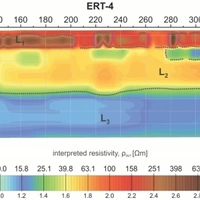 Sample ERT measurement result. Source: Bania, G., Woźniak. T., Geological Quarterly Vol 66, No 3 (2022) 66: 23, doi: 10.7306/gq.1655