Trade name
Particle Size Analyzer SediGraph III 5120 Micromeritics
Technical description
SediGraph III is a particle size distribution analyzer by sedimentation method with X-ray detection of suspension density.
Instrument characteristics:
the stationary X-ray scanner module
the module of vertical movement of the measuring chamber
automatic system of suspension preparation and its transport to the measuring chamber
measuring range: particle diameter from 300 to 0.1 μm
Conditions for providing infrastructure
- according to the regulations listed on the laboratory's website: http://wydzlab.agh.edu.pl/wp-content/uploads/2020/11/Regulamin-WLBFSTiG.pdf
- scientific and research cooperation with AGH units and other domestic and foreign scientific units
- cooperation within the projects of NCN, NCBiR, cooperation with industry and under contracts
Type of accreditation / certificate:
Not applicable
Access type
External
Research capabilities
measurement of the particle size distribution for mineral, synthetic, industrial samples, etc.
Last update date
June 10, 2023, 11:02 p.m.
Year of commissioning
2012
Measurement capabilities
particle diameter range 300 to 0.1 μm equivalent spherical diameter
resolution: the sedimenting sample is scanned by a narrow X-ray beam - less than 0.2% of the total distance scanned permitting high resolution
Photos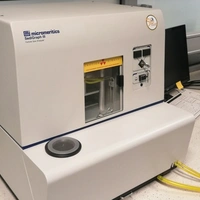 SediGraph III 5120 Particle Size Analyzer