Apparatus for sorption measurements ASAP 2020 HD Micromeritics
Trade name
Apparatus for sorption measurements ASAP 2020 HD Micromeritics
Technical description
Micromeritics' ASAP 2020 HD is an analyzer for measuring gas sorption and determination of BET surface area, size, volume, and pore distribution in powders and porous materials.
Apparatus characteristics:
apparatus compatible with N2, Ar, He and CO2 gases
two independent degassing stations
one analytical station
determination of size, volume, and surface area (2 - 50 nm), micropores (0.35 - 2 nm)
working pressure range of the apparatus 1.3 x 10-9 to 1.0 P/P0
temperature range of sample degassing: 20-450 ºC
analysis of powder and solid samples of dimensions not larger than 7 x 7 x 10mm
Conditions for providing infrastructure
• according to the regulations listed on the laboratory's website: http://wydzlab.agh.edu.pl/wp-content/uploads/2020/11/Regulamin-WLBFSTiG.pdf
• scientific and research cooperation with AGH units and other domestic and foreign scientific units
• cooperation within the projects of NCN, NCBiR, cooperation with industry and under contracts
Type of accreditation / certificate:
Not applicable
Access type
External
Research capabilities
gas sorption measurement for mineral, synthetic, industrial samples, etc.
BET and pore volume analysis of solid and powder samples
Last update date
June 10, 2023, 11:02 p.m.
Year of commissioning
2012
Measurement capabilities
single and multi-point BET surface measurement
Langmuir surface and Temkin and Freundlich isotherm analysis
pore volume and pore surface area distributions in terms of meso- and macropores by the BJH method
distribution of micropores by D-A method and total volume of micropores by t-Plot method
Photos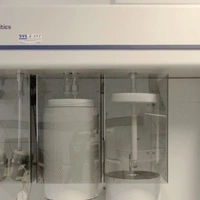 ASAP 2020 Micromeritics Accelerated Surface Area and Porosimetry System