Wavelength dispersive X-ray fluorescence spectrometer (WD-XRF) ZSX Primus II
Trade name
Wavelength dispersive X-ray fluorescence spectrometer (WD-XRF) Rigaku ZSX Primus II
Technical description
The ZSX Primus II RIGAKU X-ray Fluorescence Wave Dispersion Spectrometer (WDXRF) enables qualitative and quantitative analysis of elements in the range from nitrogen (N) to uranium (U) (Z = 7 - 92).
Spectrometer characteristics:
X-ray tube with Rh anode, power 4kW, with front window Be (30µm) placed over the analysed sample
accelerating voltage in the range of 2-60 kV and electron beam current in the range of 2-150 mA
selectable primary beam filter (four filters: Ni-400, Ni-40, Al-125, Al-25)
the ability to choose the diameter of the analysing beam (six masks with diameters: 35, 30, 20, 10, 1 and 0.5 mm)
the ability to rotate the sample during measurement
7 analysis crystals for measurements in the N – U range
mapping system (spot measurement) with CCD camera
two detectors, scintillation and proportional flow, for the analysis of heavy and light elements, respectively.
Conditions for providing infrastructure
- according to the regulations listed on the laboratory's website: http://wydzlab.agh.edu.pl/wp-content/uploads/2020/11/Regulamin-WLBFSTiG.pdf
- scientific and research cooperation with AGH units and other domestic and foreign scientific units,
- within the projects of NCN, NCBiR, cooperation with industry and under contracts,
Type of accreditation / certificate:
Not applicable
Access type
External
Research capabilities
qualitative and quantitative analysis of the elemental composition
quantitative analysis using the standard method based on the prepared calibration curves in the N-U range or standard-free based on the algorithm of fundamental parameters in F-U range
macroscopic and spot analysis of the chemical composition
analysis of the chemical composition of solid and powder samples
preparation in the form of pressed pellets and fused beads
Last update date
June 1, 2023, 6:02 a.m.
Year of commissioning
2012
Photos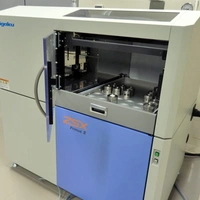 X-ray Fluorescence Spectrometer (WDXRF) ZSX Primus II RIGAKU